Description: Sorare, the blockchain sports game company, collaborates with Mangopay to unveil Cash Wallet, enabling fans to make purchases in fiat currencies like the U.S. dollar, euro, and British pound sterling. The introduction of Cash Wallet aims to simplify the user experience and expand accessibility to Sorare's fantasy sports games and marketplace.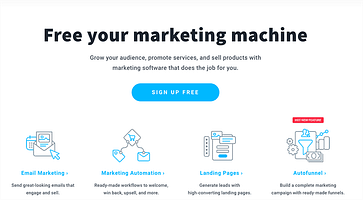 Try totally free email marketing tool ( get response )and upgrade your business now.
Introduction: Sorare, a leading blockchain sports game company, has joined forces with Mangopay to launch Cash Wallet, a groundbreaking feature that allows users to conduct transactions in real-world (fiat) currencies. This partnership marks a significant milestone in the Web3 industry, removing a major entry barrier and facilitating the seamless adoption of Sorare's fantasy sports games and marketplace. Let's explore how this new integration enhances accessibility and usability for millions of sports fans worldwide.
Unlocking the Power of Cash Wallet: Until now, Sorare's five million registered users primarily used cryptocurrencies to participate in the platform's activities. With the introduction of Cash Wallet, they can now effortlessly make payments in traditional fiat currencies, such as the U.S. dollar, euro, and British pound sterling. This innovative development opens up exciting possibilities for both existing and new players, allowing them to experience the thrill of Sorare's fantasy sports games without the need to navigate the complexities of cryptocurrency transactions.
Sorare's Unique Value Proposition: At its inception, Sorare revolutionized the intersection of collectibles and fantasy sports by introducing digital card ownership enabled by Web3 technology. Players gain true ownership of their digital cards in games spanning soccer, baseball, basketball, and more. Blockchain technology verifies the authenticity and scarcity of these cards, offering a novel and engaging experience for sports enthusiasts and collectors alike.
Nicolas Julia, CEO of Sorare, emphasizes that blockchain's potential lies in its accessibility. By making Cash Wallet available for purchases with fiat currencies, Sorare is committed to providing a user-friendly platform that can be enjoyed by all sports fans. This move aligns with Sorare's vision to create a vast sports community and become a global sports entertainment giant.
Empowering Sorare Managers: The collaboration with Mangopay, a frontrunner in the payment infrastructure industry, signifies a shared dedication to shaping the future of payments. Managers can now securely connect their bank accounts, store credit card details, and directly deposit funds into their Cash Wallet. This newfound convenience streamlines the process of buying and selling digital cards, enhancing the overall user experience.
Building a Stellar Lineup of Partnerships: Sorare's growth journey since its launch in 2018 has been nothing short of extraordinary. Partnering with renowned leagues and teams, including the Premier League, MLB, MLS, and NBA, the platform has garnered investments and support from sports icons like Lionel Messi, Serena Williams, and Zinedine Zidane. Such alliances have further bolstered Sorare's position as a trailblazer in the sports, collectibles, and gaming domains.
The Road Ahead: With a focus on continuous improvement, Sorare's long-term strategy involves nurturing its user base, fostering the largest sports community worldwide, and becoming a prominent global sports entertainment powerhouse. The launch of Cash Wallet sets the stage for an exciting future as it coincides with the onset of the European football season, the 2023 MLB Postseason, and Season 2 of Sorare: NBA.
Conclusion: Sorare's collaboration with Mangopay to introduce Cash Wallet for fiat currency transactions is a game-changer in the world of fantasy sports games. By removing barriers and prioritizing accessibility, Sorare is poised to revolutionize the way sports fans experience and interact with their favorite games. As Cash Wallet becomes available to all Sorare Managers from early August, the platform continues to reinforce its position as a leader in the Web3 industry, where passion meets business.
if you like more about tech, you can click following link
Unveiling AI Minds: The Lesson from Isaac Asimov's "Robbie"